Fume + Stain + Water Based Finish
This was an interesting project we finished last month. Our good friend Arvydas from Arch Remodeling (you can see some other interesting floors we have done for him on this page ), called us up and asked us to rescue this 1,600 square foot floor in a beautiful house north of Chicago.
To say the floor was in a bit of a mess would be quite an understatement. It was very dark, almost black in color, and the finish was very uneven in sheen and the color extremely blotchy. Most likely the previous "refinisher" tinted the final oil based finish coat with stain to try and get a darker shade to cover up his bad staining job 🙂
Below you can see some shots of the floor before we started on it…
This shot shows the uneven sheen…
In the picture below you can see how rough shape these floors were in. Look at the gouges and dips the last "floor sander" left in the doorway…
On top of refinishing the existing hardwood flooring, we also removed the carpet in a couple of rooms and installed new 4″ white oak quarter sawn flooring to match the original hardwood…
After sanding the old dark blotchy finish off the floor we were able to see what we were dealing with. There were also various areas that were damaged and needed repairing…
Another repair that was needed beside the dining room fireplace…
Below is the original white oak hardwood all sanded and ready to stain…
And this is the brand new white oak after installation and sanding…
Then we started applying the 'Fumed' coat…
The next step was staining. The client chose Spice Brown and we applied it straight on top of the fumed floor. It gave it a beautiful deep rich dark brown color. The floor was then coated with Bona Mega Clear HD satin finish.
We didn't get any photos of the staining step but the photos below show the finished product…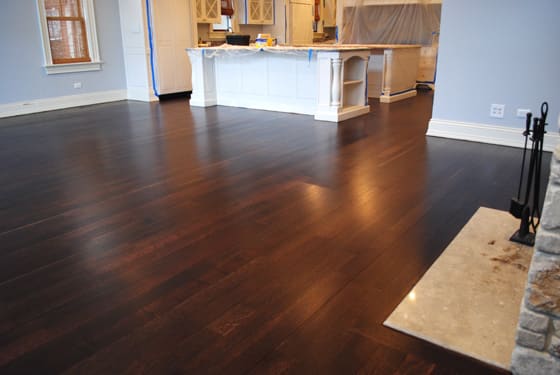 This is the new flooring fumed, stained and finished…
One of the biggest challenges with this project was the radiant heat throughout the house. We couldn't turn the off heat completely because the temperature outside was around 0 F and snowing while we were working there. But because the hardwood floor was warm, the finishes were drying too fast.
We got it to work well and the finish turned out great, but it sure did keep us on our toes!
Here are a couple more photos of the finished floor. This is the kitchen…
And here's the dining room…
Now that we have finished the floors, Arvydas will come in to paint the walls and do his magic in restoring the rest of the house.
We really enjoy being creative with colors like we could on this hardwood floor. Mixing the 'Fumed' process with different blends of stain gives us a huge color palette to work with. So if you want something different for your own hardwood floors, don't be shy to ask 🙂