Beautiful Hardwood Floor Heating Vents
One of the best bang-for-your-buck add-ons you can include in your hardwood floor install and/or refinishing project is upgrading your heating vents. Most people don't give them much thought, but they can really add to the finished look of your floor if done right.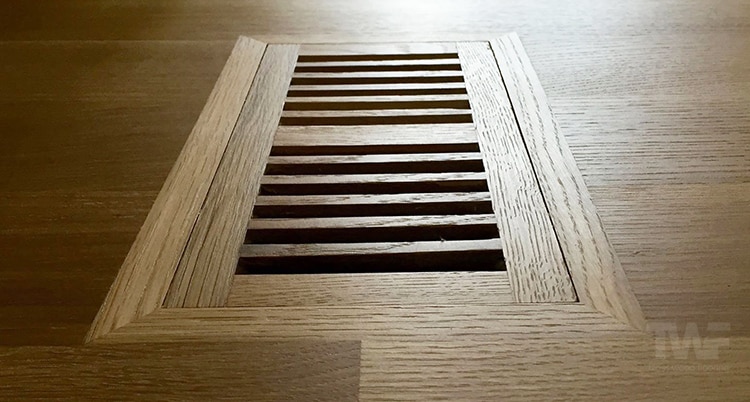 If your home is like most people's you probably have the standard metal vents that do the job adequately enough but don't really blend in too well with your wood flooring.
Or maybe you're one of the unfortunate ones that has ugly stepped on, concaved, dented, scratched, rusted and chipped metal ones that stand out like an ugly sore thumb on your floor. You're definitely not going to re-install those on your new floors – right?
So what options are there if you'd like to treat your floors to something better?
Well there are two different types of wood vents you can choose from – self rimming wood vents and flush mount wood vents. The self rimming ones have a rim that sits on top of the floor surface and are about 3/8 inch high off the floor, the flush mount vents are inserted into the actual floor and sit even with the floor surface.
Self Rimming Wood Vents:
These types of vents are a common sight on hardwood floors here in Naperville because they're easy to find and they look much better than the cheap metal vents. They are super easy to install as they just easily drop over the existing heating duct openings just like the metal ones – there's no cutting, trimming or messy installation needed. Access to the heating ducts is as easy as lifting the vent out and reaching in.
One of the biggest pros of this type of vent is also its biggest con – the fact that it easily sits on top of the surrounding floor supported by its rim. This just doesn't look as nice as the flush mount vent option.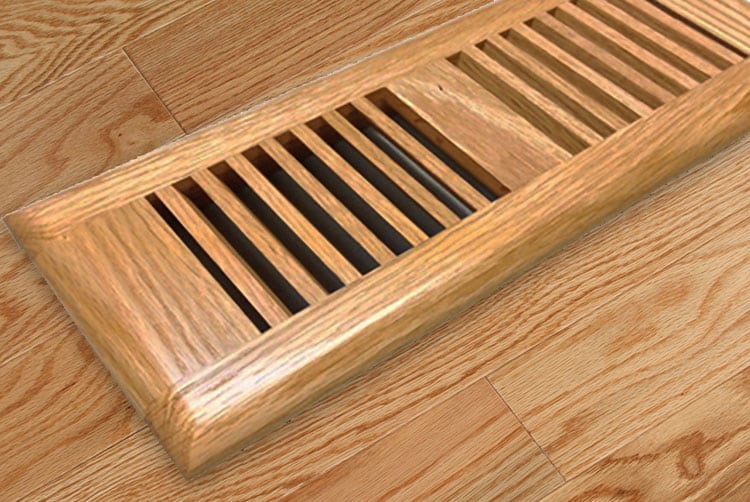 Also you may not be able to get perfect fitting sizes for your duct openings, that may or may not have been cut out accurately by the original contractor. As a result, most self rimming vents sit a little loose in the duct opening. While this doesn't affect the looks as the overhanging rim covers the hole adequately, if you're a bit of a perfectionist it will drive you a little nuts at times.
Also as they don't sit flush with the floor, self rimming vents will get dinged around and damaged more easily than flush mount vents.
Flush Mount Wood Vents:
Flush mount vents are the Rolls Royce of wood floor vents. They look great sitting flush and look seamless as they completely blend into the surrounding hardwood floor.
Because they're even with the surrounding hardwood floor, cleaning is a breeze. If you need to access the duct opening you can easily remove the vent from the built in surround for easy access. They also come with built in dampers to allow airflow or shut it off from that particular duct.
One of the nicest features of these types of vents is that they can be stained and coated to the exact same specs as the hardwood floor making them even more seamless…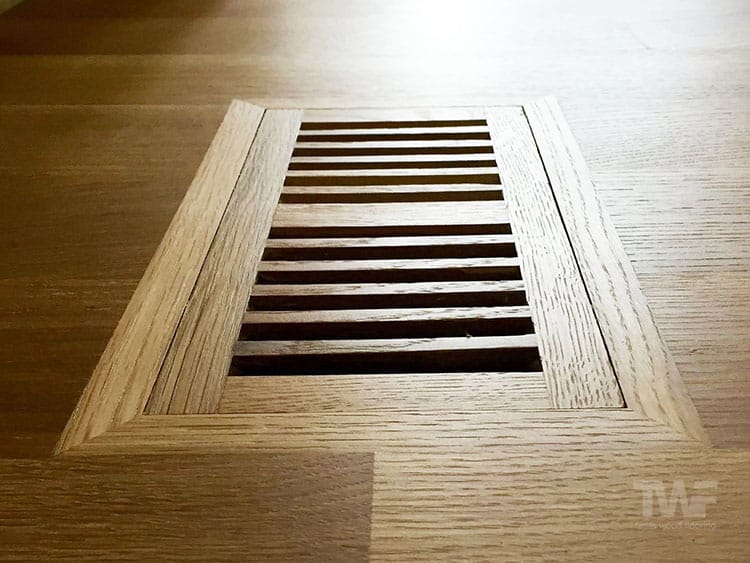 And we can get them in the exact same species of wood you have too.
Of course, like anything that looks great, there's some extra work to get them installed.
They can be installed quite easily in a new hardwood flooring install but with some skill, patience and special tools they can be retro-fitted into existing hardwood floors as well. In fact we do a lot of these retro-fits for our clients.
So… if you want to do something special with your heating vents for your hardwood floor project, ask us to bring a sample of our flush mount wood vents so you can see them in person during your free in-home estimate. We'll be happy to show them to you so you can choose the perfect ones for your floors.
–
Updated Jan 2023