How to Choose a Hardwood Floor Finish – Part 4
This is the final article in a 4 part series where we've been discussing how to choose between ALL the hardwood floor finishes out there. This is obviously an issue with many people because I've had quite a few messages about when this final article to the series would be ready… sorry for the delay over the holidays and thank you for your patience.
In the last article we compared all of the finish systems side-by-side and ended up choosing the 3 best by process of elimination. But that still leaves the field pretty wide open as there are many different brands and products among those three groups.
In this article we will talk about the good and bad points of these 3 finish systems and reveal our recommendations for what we feel are the current top finishes in each category from our hands on, real world experience.
High-End Single Component Water Based Finish:
As we talked about at the start of this series of articles, high-end water based finish systems are on the cutting edge of technology and are among the most durable finishes available. But let's go through the minor drawbacks of these finishes so you have the full picture.
One downside to water based finishes is the color if you have Red Oak floors. If you just apply a clear water base finish to Red Oak it can look dull, flat and lifeless. So your floor will need to be stained first — either natural or in a color of your choice.
White Oak, on the other hand, can look great in it's natural state with a waterborne finish on top and no stain.
Here's a project we did not long ago with an ultra-matte water based finish over White Oak…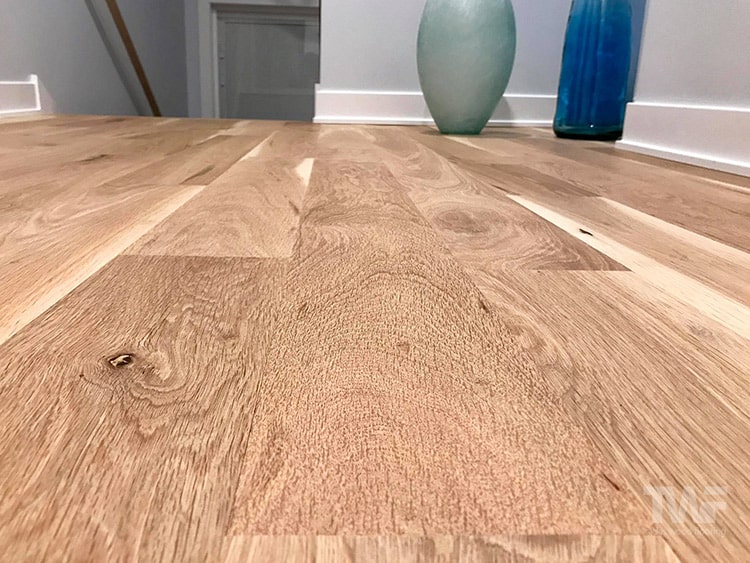 Another downside to high-end water based finishes is the price. These are among the most expensive finishes. Our wholesale price for a gallon of high-end finish is in the triple digits—compared to say maybe $30.00 for cheap "handyman" finish.
They're also far more challenging to apply because of their extremely fast drying times. This means if your finisher isn't an expert at applying them and he messes a coat up, the entire floor will have to be re-sanded (meaning more flooring removed) and the finish reapplied from scratch.
Now for the good points…
Like we've already discussed, these high-end finishes are very durable, they provides a very nice build layer and they're very easy to clean and look after.
They come with the option of multiple sheen levels. You have a choice between matte, satin, semi-gloss and gloss with most finish systems. Some even have ultra-matte option like the photo of the White Oak above.
Below is a water based finish in satin sheen..
Another huge benefit they have is they don't have the horrible fumes all the other solvent and oil based finishes have (although the stain and sealer will have a slight odor to them if they're used).
They also have built in UV inhibitors, so they won't change color anywhere near as quickly as the oil based finishes.
Our Choice:
After years of testing dozens of professional quality finish systems we have decided on a product from a German company with 120+ years experience in hardwood floor finishes called Pallmann. We've been using Pallmann for many years now and have completed close to 100 projects with their waterbased finish systems in the last 12 months.
The single component finish we use and recommend to our clients is called Pallmann Pall-X Power . We're convinced this is the best single component water based finish on the market today.
These are some of the benefits of this finish system:
Low VOC levels. Only 180 grams/liter
Dries in 2 to 3 hours
Can walk on it after 3 to 4 hours
Cures in 5 days
Available in Ultra Matte, Satin, Semi-Gloss and Gloss
If you're looking for a finish with amazing durability, great looks, very low VOC's, fast dry and cure time , and is easy to clean and take care of, then this system is going to be an excellent investment for your floors.
Commercial Grade 2 Component Water Based Finish:
If you want the best of the best in surface finishes, this is it. It's called 2 component because it's made of two parts — the finish and a catalyst.
The catalyst is an industrial grade hardener and when it's mixed into the finish, the chemicals blend and mix to form an extremely tough and extremely durable and scratch resistant floor system when it's dry and cured. This is the finish we use for our commercial projects like retail stores, hotel lobbies, dance floors, cafes and restaurants. We also offer this system to homeowners that want the absolute best surface finish system they can invest in for their home.
If you have a high traffic home with lots of dogs or children, or you're always walking across your wood floors with your dirty shoes, then you might want to consider this commercial grade option.
You may also want to look into investing in this finish system if you have old antique hardwood floors that have been sanded and refinished many times before and now don't have a lot of wood left to sand. In this case you will want to protect what flooring you have left with the best finish available.
The 2 component versions of waterborne finishes usually have much better UV and sunlight inhibitors as well, compared to their single component counterparts.
The downside to this finish system—expect to pay around 30% more compared to other finish systems.
Our Choice:
After considerable time and expense spent testing of dozens of two component finishes we have decided on a product from the same German company—Pallmann. The finish is called Pallmann Pall-X Gold .
These are some of the benefits of this finish system:
Low VOC levels. Only 200 grams/liter
Not UV sensitive
Dries in 2 hours
Can walk on it after 3 to 4 hours
Cures in 3 days!
Available in Matte, Satin and Semi-Gloss
This is as good as you can get if you're looking for a surface finish that looks great, is low in VOC's, extremely fast cure time (3 days is incredible!), is super durable, will hold up exceptionally well to UV light and sunlight , and is very easy to clean and maintain.
Here we are applying this water-based finish…
(Unfortunately we can't work this fast in real life.)
Hardwax Oil Finishes:
These relatively new finishes have been a big welcoming surprise to us over the last decade. As you can see from the Finish Comparison chart in Part 3 their overall score comes in second only to the 2 component water based finishes.
Like the other two finish systems we recommend, these finishes are highly water resistant, very durable and they're easy to look after and maintain. They have a lot of things going for them over conventional surface finishes.
For one thing, they are the most "green" and environmentally friendly finishes available at the moment. One that we use and recommend has zero VOC's. The highest one is 50g/liter — compared to oil based finishes that are around 500g/liter and Glitsa that has 725g/liter. That means no more being driven out of your home for days on end by strong fumes and toxic chemicals.
With certain systems (particularly Rubio Monocoat ), the custom colors and mixes you can achieve is incredible. If you want something completely out of the ordinary and unique then you'll definitely want to consider this option.
This is the first stage of applying Rubio Monocoat…
The oil then is buffed in and then buffed off.
Below are a few of the custom colors we have done with hardwax oils over the years…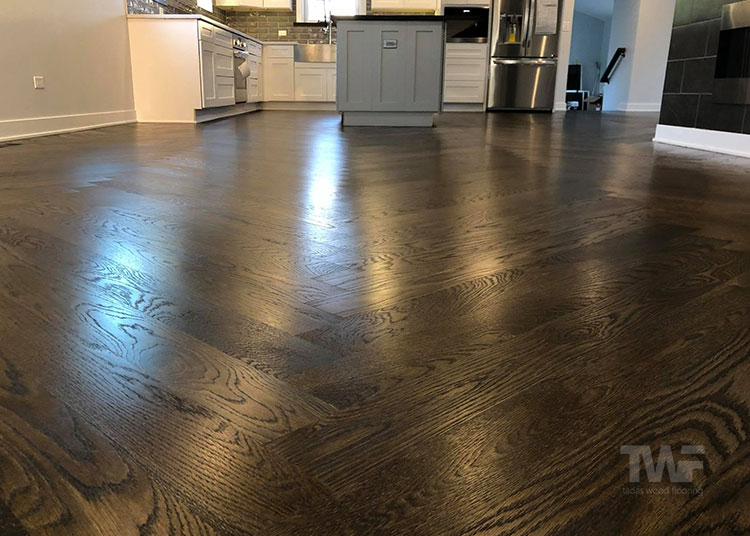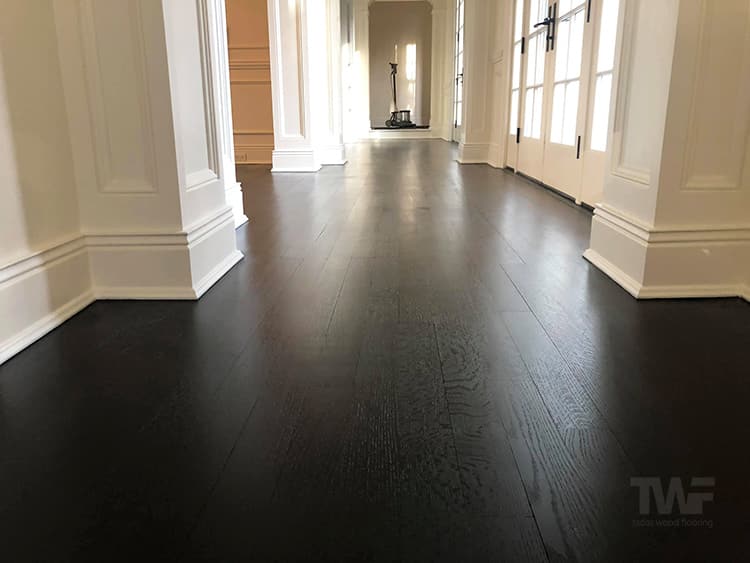 As you can see, there is a huge variety of colors and shades and mixes available with hardwax oils.
Because hardwax oils don't form a plastic film that sits on top of the floor surface, it makes them far easier to spot repair than surface finishes if you ever do any damage to them. You can repair the damage in the middle of a room and it will be virtually impossible to see if you didn't know it was there. To do the same with a surface finish we would need to re-coat the entire area so we could ensure that the new finish and sheen blends in properly.
These finishes can be used in domestic as well as high traffic commercial applications. In fact they're becoming very popular in commercial projects because they dry fast and don't stink up the whole building.
The downsides — if you love super glossy finishes then hardwax oils won't make the cut. The highest gloss level they can attain is a subtle satin sheen, and that is only specific products such as Pallmann Magic oil . But most people that choose hardwax oils love them for their hand-rubbed matte, natural wood look.
And unlike high quality surface finish systems, hardwax oil finishes need to be properly maintained and refreshed several times throughout their life to maintain their protective coating.
But this is a good thing too because if you stay on top of the maintenance schedule you potentially will never have to sand your floors again. Just keep looking after them, spot repair damaged areas, do the proper maintenance coats and the finish should last a very long time — as long as you still take good care of the actual wood and don't gouge, chip and dent your floors.
Our Choice:
After years of testing all the leading hardwax oil finishes we have decided to offer 2 options (depending on the look, color and sheen you are hoping for) — Pallmann Magic Oil (our #1 choice) followed by Rubio Monocoat .
You can see the results of our months of testing and more detailed information about these finishes here:
Pallmann Magic Oil original review and the 2023 update .
Rubio Monocoat review.
Hardwax oils have definitely added viable options to the hardwood finish mix. If you're open to a non-conventional finish approach, appreciate the many benefits they offer and can live with the minor downsides, then one of the two hardwax oil systems above could be perfect for your home.
In Conclusion…
So there you have it. Hopefully this series of articles has helped educate you on the basics of hardwood floor finishes and has shown you a clear choice as to what finish system you'd like to invest in for your hardwood floors.
If you have any other questions pertaining to hardwood floor finish systems or you would like to see samples of our recommended finishes in person, please feel free to call us and ask. We're always happy to help.
–
Updated Jan 2023
* We were previously using Loba waterborne finishes. During our latest testing the new reformulated Pallmann finishes came out ahead and is what we are using going forward. Loba manufactures extremely good finishes though and come very recommended.