Revisited – Pallmann Magic Oil in 2022
It's hard to believe it's been 10 years since we wrote this blog post: Pallmann Magic Oil review. The response we received from that series of articles has been incredible. A lot has happened since then. At that time, not many people had heard about these types of finishes and only a select few hardwood floor refinishing companies were offering them to their clients.
10 years down the track and hardwax oil finishes have become extremely popular. They are now a very serious contender among mainstream finishes. It's been fun watching their progress. We have completed over 150+ hardwax oil projects in that time… almost half of them Magic Oil.
So I guess the big question is: What do we think of hardwax oils now, 10 years down the road? How are they performing? Are we still using and recommending them? Are there any issues to be aware of?
In this article we'll revisit Pallmann Magic Oil. In a future article we'll take a look at Rubio Monocoat.
We're happy to say the pretty much everything we wrote in the original Pallmann Magic Oil article still stands true today.
In that article we covered the basics of what we look for in a finish:
Has to look good
Must be long-lasting, durable to traffic and resistant to spills
Have relative easy maintenance and repair
Not "yellow" excessively over time
Not have high VOC's and stink up the home for days on end
Not take forever to cure
We are still extremely happy with the performance of this finish in covering each of these 6 points.
So how has it performed in the real life?
Some of Our Projects Revisited a Few Years Down the Road…
Below are some of the jobs we've been able to go back and revisit over the years in order to see how the Pallmann Magic Oil finish system was holding up.
Project #1 – Elmhurst, Illinois
We sanded and refinished this builders showroom with Magic Oil over three years ago now. It's one of our favorite colors – a process of the floors being fumed, stained and finished with Magic Oil. Here it was the day it was finished…
It gets quite a bit of traffic as any office and showroom would. We asked and nobody takes their shoes off (which makes sense for a public showroom). That means that snow, salt, dirt and grit gets brought in and walked over the floor on a daily basis.
How has it held up?
Extremely well as you can see in the photo below…
Project #2 – Hinsdale, Illinois
This floor was sanded and refinished 4 years ago. A beautiful white oak floor stained spice brown and Magic Oil on top. This is a very active home. A family of 5, 3 active kids and a large dog. A very high traffic home by anyone's standards…
Looks good doesn't it?
Here's their pooch looking very guilty…
To show how much abuse these floors get, last year, while we were back here installing and refinishing flooring in the hallway… one of their kids was riding his hover board round and round the kitchen.
This is a perfect example of why we love and recommend this finish system so much.
Project #3 – Naperville, Illinois
This photo was taken 3 years after we finished this project. Its red oak stained 25% Rosewood and 75% Golden Brown and finished with Magic Oil. Unlike the above floors, this is quite a low traffic home. But they do have a small dog that scampers around on them…
As you can see, the floors look like new. They have done a wonderful job looking after them.
Project #4 – My Own House
I love this finish so much that we used it in our latest home. We installed white oak in a herringbone pattern in the kitchen and family room, and straight throughout the rest of the house…
Beginning the oil application…
This is the finished floor after staining and applying Pallmann Magic Oil…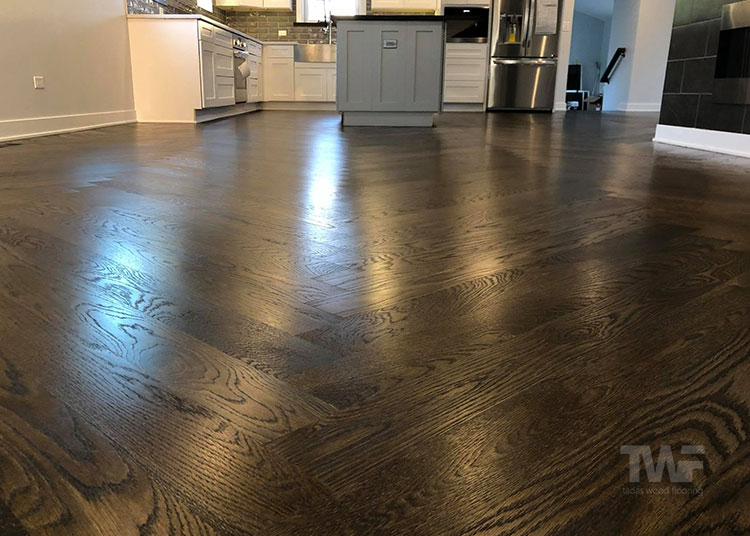 View of the kitchen…
Here is the stairs and landing…
The hallway…
These floors are close to 18 months old now. We are a family of 5 with a growing puppy. You can see him in the video below doing a durability test on the floors…
We are super impressed with the looks, wear and durability of Pallmann Magic Oil floors. And we now have ample proof that Magic Oil is a wonderful, long lasting and beautiful finish system in all types of situations.
If that's the case, then…
Why Are There People Online Saying Their Floors Are Leaving Spots and Easily Scratching With Magic Oil?
Yes, we've noticed that too. From the comment section of our original Magic Oil article and from phone calls we've received to help repair projects others have done, we see that certain people are definitely having issues with this finish.
Here are some of the issues that readers from all over the country have commented on in our blog…
"I am a homeowner who has had Magic Oil applied to existing red oak flooring, sanded down of course. I am so disappointed and am beginning to think that maybe something was missed in the application . I've got water spots everywhere and I cannot seem to remove them. Everytime I turn around there is another scratch or blemish . We have only had the product on a week and I think we are going to have it sanded down to the bare and start with something else. Any advice?"
That doesn't sound good.
Here's another one…
"We recently had new Red Oak floor installed and finished with Pallmanns Magic Oil. The floor guy did not have experience with product , but was willing to try it. We ran into a couple problems, and would greatly appreciate your opinion… it appears the finish is compromised in places , especially in the kitchen where we are seeing lots of spotting and 'dry' patches. The installer admitted the finish set up on him faster than he expected leaving excess oil on the floor . The installer was willing to come back and rescreen and spot re-finish. But that raised the question of how hard it will be for us to spot-fix ourselves in the future."
Can you start to see the problem?
Here's another comment that is more obvious…
"I went with magic oil to get a little extra sheen. Sanded to 120 grit, then applied two coats consecutively (spread on pretty thin with plastic trowel-like tool, left on for about 15 minutes, excess wiped off with paper towels , then buffed with a random-orbit polisher with microfiber cloth covering. Immediately repeated same steps with 2nd coat . After curing, it looks very blotchy – lots of uneven sheen, almost hazy/dry in some spots…"
We've seen quite a lot of these types of comments on other home renovation forums too.
If We Love This Finish So Much and Haven't Had One Problem In 9 Years… Why Are Others Experiencing Such Issues?
What's the cause of badly performing Magic Oil floors that are leaving spots, patchy and blotchy areas and are easily scratched?
From our experience, 3 things in particular…
1. Inexperience in applying these types of finishes.
This is referring to both inexperienced flooring professionals that are practising on client's floors (a BIG no-no), as well as the growing group of DIY homeowners.
These products are professional grade finish systems and take quite a lot of expertise and skill to apply properly.
Proper equipment to buff the oil in, as shown in the photo below, is needed to do a professional job…
Yes, they can be done by a DIY homeowner that has some woodworking and painting skills and follows the manufacturer's instructions… but (and please don't shoot me), its most likely out of the realm of most weekend DIYers.
I say this because if even apparent professionals, with all the right tools available and years of experience with other finish systems, are having a tough time applying Magic Oil properly… how is a DIYer, without these tools and skills, supposed to be able to. Just getting used to taming a buffer is a skill on its own for the uninitiated.
You can see in one of the comments above a DIYer used paper towels and microfiber cloths for buffing vs the recommended red and white pads. They also put 2 coats of oil down each time before buffing. Effectively applying 4 coats of finish. These are not the instructions Pallmann gives for applying Magic Oil properly. This will result in most of the oil being soaked up into the cloths and leaving too little to soak into the floor. Thus resulting in a dry, patchy finish.
Any deviation from the professional instructions and tools will result in improper application.
Here is the second issue…
2. The floors are being sanded too fine
We sand up to 100 grit for Magic Oil floors. We have read of homeowners sanding anywhere from 150 grit up to 300 grit, and then applying Magic Oil.
Higher grits are not better when it comes to sanding floors. Using high sanding grits closes off the grain too much. Sanding up to 300 grit will virtually polish the wood surface. Because the grain pores are now so tight, the oil won't be able to penetrate and soak deep enough into the wood. This will cause bonding issues and failure of the finish.
And the last issue we see causing problems is…
3. Too much finish being left on the floor.
The chemical design of these types of finishes directs that in order for them to perform properly, they have to be applied in the exact correct coating sequence, in the right time-frame and all excess finish needs to be removed quickly before it dries and cures.
If you don't have speed and experience, it can be quite stressful as the finish quickly sets up on you.
In one of the comments above you can see this was the issue for the inexperienced installer that was using this on a customers floor for the first time. It set up on him too fast and he left excess oil on the floor – leading to a compromised finish.
Excess finish left on the floor won't cure properly. It will leave the floor patchy, easily scratched and prone to water spotting.
If either of these 3 steps are done incorrectly – like the comments shown above – then yes, there will be issues.
Hopefully that clears up some of the confusion of why some are having issues… while experts in using these finishes are not.
Like all things in life, the more skilled someone is at something, the better the result will be.
When it comes to refinishing floors, it can be very frustrating, time consuming and costly when things don't go right.
If you decide to have a go applying Magic Oil yourself, please practice, practice and practice some more on large sample boards before taking a shot at your entire house. And even then, when you start, do the closets first, then the back bedrooms, then the main bedroom before starting on the more open and used rooms in your house. That way you'll have some experience by the time you get to the living room.
If you decide to hire a professional floor guy and he tells you he hasn't used these types of finishes before… seriously consider whether you want him practising on your floors.
Read the third comment above from our blog again if you doubt me.
I wouldn't want you to be an unsuspecting guinea pig and lose time, money and years off the life of your floors. There's enough of us out there that know what we're doing and have years of experience now. They need to do what we do and practise on sample panels in their workshop and on their own floors (every room in my houses, except for the one in the photos above, had a different finish).
The photo above is another Pallmann Magic Oil floor we did a couple of years ago. It is red oak and stained Nutmeg.
And finally we got around to it, (I know there are a few requests for this color in the comments) here is White Magic Oil on red oak…
I've Heard Repairing Them Isn't As Easy As They Claim…
Yes, we have heard this too.
Here's one example from our blog…
"Unfortunately, we had some paint leak through one of our painting tarps and it dried in spots on our hard earned beautiful floor!!!! I tried several methods to remove the paint from the surface, but finally resigned to sand and repair the spots. My repair job did not work so well. I sanded the spots feathering them out a bit, restained, waited 24 hours and then reapplied the Magic Oil buffing in well. The spots that were repaired now look like scuff marks instead of blending in with the rest of the floor . Is this a sanding issue?"
In answer to her question… yes, it was a sanding issue.
When attempting repairs in Magic Oil, you need to follow the exact procedure done with the original sand and refinish. Use the exact same grit sequence and even the same sandpaper if possible. Then the Magic Oil should be re-applied in the same way and with the same amount of coats as the rest of the floor.
If the floor was water popped prior to staining, then that needs to be done as well. Then the exact same stain (hopefully a sample from the original container) should be applied and wiped off in the same timeframe.
If you miss one of these sequences it won't look right or blend in to the surrounding area.
In some case's it's better to re-sand and refinish the whole board. That way if there has been any UV damage, the whole board will at least be the same shade.
For our clients in Naperville and Chicago, we keep detailed notes of all our jobs such as sandpaper used, what processes were implemented, as well as samples of stains. That way, should they ever run into this issue, we can help them through the process… or be hired to do it for them.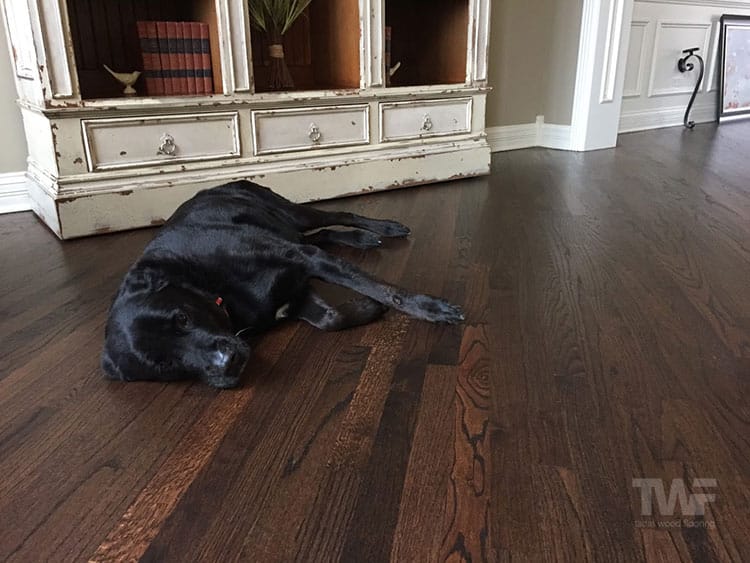 The project above was done about 3 years ago. This photo was taken almost a year later. Its Red Oak stained with 50% Sedona and 50% Ebony, finished with Magic Oil. As you can see they have quite a large dog and the floors still look great.
In conclusion…
Hopefully this gives you good, hands on insight into Pallmann Magic Oil so you can decide whether it is worthy of your consideration.
In our opinion it is one of, if not THE best, hardwax oils on the market right now.
We love this finish system and stand behind it proudly. We're happy to have been one of the pioneers in experimenting with and using hardwax oils in Chicago. We intend to offer them to our clients for many years down the road.
We'll have the 9 year review of Rubio Monocoat ready for you soon. Until then feel free to ask any questions you have about Magic Oil, or share your experience with it (good or bad) below…
–
Updated July 2022