Rubio Monocoat Fumed Loft Project in Chicago
Last month we completed another cool hardwax oil project in the Logan Square area of Chicago. It was in an old industrial building that had been converted into trendy lofts about a decade ago. The owner of this particular loft was doing a small update/renovation and wanted something different than the traditional finishes for his red oak floors.
In his online search he stumbled upon us and our articles about hardwax oils.
After seeing the creativity that Rubio Monocoat offered and looking at some photos of the fuming process from our prior jobs it was decided to go for the same concept. But for the top color oil application we were going to experiment and come up with something unique.
The floor would need to hold its own and look great with the exposed brick feature walls, the rustic timber posts and the cool industrial wood ceiling.
So we made half a dozen samples to choose between – charcoal, black, chocolate etc. Then we were asked about silver grey. We hadn't used this color before and didn't know how it would look, but we're always eager to try something new.
After making the sample and seeing it in the loft it was an easy decision…
Fumed and Silver Grey it was!
Unfortunately we neglected to take some before pictures of the floor, but just imagine an average 2 ¼ wide red oak floor with a basic oil modified finish that was worn out and tired. We spent 2 days repairing and sanding the hardwood floors to be ready for the color steps. Below you can see what the floors looked like on the third day after we applied the fumed process…
Above is the bedroom and below is the living area. As you can see the fumed process really changes the look of red oak, even without the oil applied…
The next day we came back and applied the Rubio Monocoat oil in the Silver Grey color…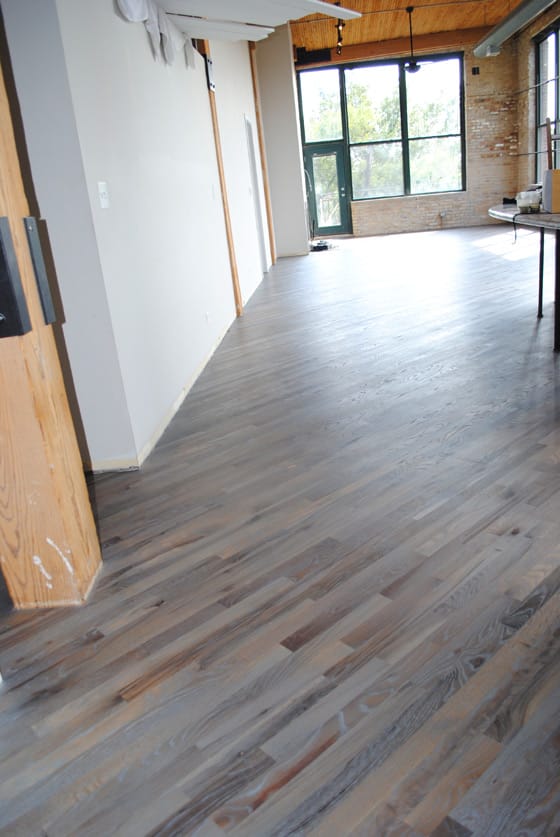 It made a huge difference as you can see from the photo above. It's definitely a very unique look but it really looks great in this trendy industrial loft setting.
The sun and huge windows were making it difficult to get a good shot! Here's a different angle of the living area below…
And finally here's a close up so you can see the blend of fumed and Silver Grey in more detail…
We really enjoyed this project. It's always fun for us to have clients that love to experiment and try new things. The end result turned out great and the client was very happy with his brand new trendy and easily maintained hardwax oiled floors.
It's been almost 2 years since we started using Rubio Monocoat and we're happy to report that we still love and confidently recommend this system.
If you want a unique floor of your own, don't be shy to ask, we're always up for a challenge and to work on something different 🙂