Hardwax Oil Experiment – Part 2 Rubio Monocoat [2023 UPDATE]
We are back for Part 2 of our 'Hardwax Oil Experiment' where we are extensively testing and reviewing the top hardened oils available for wood floors. Last month we did a review on OSMO Polyx-Oil ( click here if you missed it). This month we are going to do an in-depth Rubio Monocoat review.
[See below for our Rubio Monocoat review 2023 update .]
Rubio Monocoat Oil Plus 2C is imported from Belgium. Here's a rundown of the features and benefits from the Rubio Monocoat marketing material:
Rubio Monocoat Oil Plus 2C Features:
Made from natural plant oils
Super environmentally friendly with absolutely no VOC's
Doesn't stink and drive you out of your home like some finishes will
Easy to look after and maintain
Only needs one coat
More than 50+ colors and variables available
Rubio Monocoat Benefits:
Extremely safe to have in your home as it contains non-toxic natural ingredients
Doesn't form a plastic film like other varnish, acrylic and polyurethane finishes
It won't off-gas bad fumes, chemicals and smells for weeks after it's applied
It's durable enough to be used in domestic and commercial applications
Enhances the beauty of your timber's natural grain
It molecularly bonds to the wood and will not flake, blister or peel
Damage can easily be spot repaired without having to sand and coat the entire room
The huge choice of colors allows you to be very expressive with your floors
That's quite an impressive list.
The one feature that had us the most curious was the claim of only one coat. This claim is completely new and foreign to hardwood floor refinishing guys. Usually we use systems that comprise of at least three coats – a sealer of some sort and then at least two top coats. To have a complete system with only one coat and still be durable was something we eagerly wanted to try out.
Here's how they explain how the one coat system works on their website:
"Monocoat adheres with the first microns of wood by molecular bonding… because of molecular bonding, no surface film can form, and no variable saturation can occur. Not only is a second coat not required, the finished wood will not accept a second coat."
We were about to see if this truly is the case…
STEP 1 to our Rubio Monocoat Review:
Like the first hardwax oil test subject (OSMO hardwax oil), we began our experiment in our workshop on various sample boards. After some time spent testing we had our first sample boards ready to go. As you can imagine with just one coat, the application was quite easy. The big thing with this system that will make or break it though is the surface preparation – we'll get to that in a bit. The durability was impressive as we did all we could to scratch and damage it. VOC's were non-existent (a huge plus) and the smell was just a light oil scent. Step one passed, onto the next stage…
STEP 2:
The next step was to find a floor to use it on in the real world. The very first floor we used Monocoat on was a red oak rift cut hardwood floor near Naperville, Illinois. The client chose Rubio Monocoat Dark Oak.
You can see how it turned out below…
The following photo shows the shine – or rather the lack of it. This hardwax oil finish system has an extremely matte finish and no plastic surface build up at all…
And here's another photo in the dining room…
Our second floor where we used Rubio Monocoat Oil was in Kenilworth, Illinois – a nice red oak floor that needed to be sanded and refinished.
Our client wanted to use environmentally friendly products and was more than happy to try out the new Rubio Monocoat oil system after seeing the sample boards.
This floor was going to be a little special too, because we were going to put a diamond pattern in the kitchen and dining room. You can see the pattern all laid out with tape below (after the floors were sanded and prepped)…
Here's the finished floor below. The Rubio Monocoat Smoke and Oyster colors were chosen to make the diamond pattern…
Our client was extremely happy with the way the floor design and the finish turned out.
And here's another job we did in Chicago, Illinois on wide plank oak floors…
Rubio Monocoat Silver Grey color was the color of choice. You can see the nice matte sheen this finish has in the photo below…
… and here's a close up to show a bit more of the detail…
So what's the consensus of Rubio Monocoat after these completed jobs?
Well let's go back and review the basics of what we look for in a finish:
Has to look good
Must be long-lasting, durable to traffic and resistant to spills
Have relative easy maintenance and repair
Not "yellow" excessively over time
Not have high VOC's and stink up the home for days on end
Not take forever to cure
Let's go through each of these one-by-one below to see how Rubio Monocoat faired…
1. Good Looking:
Looks are very subjective and like everything, will depend on your own tastes. If you like the look of a thick "plastic" finish and like some sheen, then you may not like this finish. The sheen of Rubio Monocoat Oil is very matte – in other words there is no gloss at all. Personally we like the look. It looks very natural and really enhances the beauty of your timber's natural grain. It's a nice option compared to all the plastic looking finishes out there.
This close up photo gives you a better idea of how it looks…
If you want a bit more of a sheen, there's another product called ' Universal Maintenance Oil ' that can be applied as a second coat. That will give it a bit more of a satin sheen (this will add another day to the process).
The other aspect of good looks are the colors available.
With over 50 basic color choices you'll have no trouble getting the specific look you want. Especially if you would like something unique. How many finishes can you get in blues, reds, greens and greys?
Here are the basic color choices…
For even more choice there are pre-color treatments called Rubio Monocoat Precolor Easy which you can use to create cool contrasting effects on your floor. They are applied first before the oil, and they allow you to layer two colors together…
If you have oak or ash floors then the oil colors can be also mixed with a process called ' Smoke ' to give you even more cool options. It reacts to the tannic acid in the wood to create very unique effects.
There is also another process called ' Fumed ' which provides an ammonia smoked aging aspect to Oak or Ash floors…
As you can start to see, using Rubio Monocoat Oil Plus 2C along with the pre-color effects opens up a huge choice of colors and design choices. You can also make all sorts of designs using different colors, like our diamond patterned floor shown above. You'll only be limited by your imagination.
2. Long-lasting, durable to traffic and resistant to spills:
This one is a biggie because no-one wants to spend a small fortune getting their hardwood floors sanded and refinished and then find out that the coating system they chose doesn't live up to their expectations. Many unsuspecting homeowners have had cheap, inadequate oil based and single component water based finishes applied only to find out down the road they are wearing out prematurely.
Other homeowners love the look of traditional oil finishes but then find out that they need constant maintenance to keep their protective qualities, which can become a real pain.
With Rubio Monocoat you get the best of both types of finishes – the beautiful looks of traditional oil finishes and the durability of a higher end surface finish. As the oil is applied it molecularly bonds to the wood and leaves a matte surface that offers a strong protective coating. No matter what is done to it, it won't crack, flake, peel, blister or panelize like conventional surface finishes. It's resistance to spills is extremely impressive too.
Is it as durable as our favorite Pallmann waterborne finish systems ?
No.
But… and this is a big but… the best feature of Rubio Hardwax Oil is that if there is damage done it can be spot repaired – which brings us to our next point…
3. Easy Maintenance and Repair:
As we talked about in Part 1 of our Hardwax Oil Experiment, easy maintenance is one of the reasons thick surface finishes are so popular, and old world penetrating oil systems are not. Liquids spilled on a "plastic" finish can be easily wiped up. Cleaning is easy with a damp microfiber mop or microfiber cloth, and a soft bristled vacuum quickly takes care of dust in-between washes.
But as we already talked about in depth last month, the strength of the surface finish system is also its greatest weakness. These surface finishes are rolled on wet across the floor, and when they dry, a big "plastic" film is formed on the surface. Major damage like deep scratches are a challenge to repair because it can be very difficult to blend in the sheen of the newly repaired area with the rest of the floor.
Rubio Monocoat Oil on the other hand is applied by spreading it across the floor, and as it is buffed in, it penetrates down into the wood. There is no plastic-like film formed on the surface.
It can be spot repaired in the middle of the room and it would be very difficult to know there was any damage there afterwards.
This is because only the open (damaged) wood fibers will take the touch-up coating. The existing finish next to the scratched or damaged area will not accept new oil. There is no overlapping or additional buildup and the sheen will blend in perfectly. As you can imagine, this is a huge benefit of this finish system.
Because of the great durability and easy maintenance, many highly trafficked public spaces use this system – including the Hermitage museum in Amsterdam, the W-hotel in Dallas, the Four Seasons Hotel in Biltmore and Google offices all over the world. That's some pretty impressive clients.
If you look after and properly maintain your floors with this finish system, they will last a lifetime and you'll potentially never need to re-sand your floors ever again. You'll just need to periodically maintain them with their maintenance and cleaning products.
There are 3 different products available to look after a Rubio Monocoat floor:
RMC Soap
RMC Renew
Rubio Monocoat Universal Maintenance Oil
RMC Soap is a special concentrated cleaner that works perfectly with the finish. You dilute it 1 to 100 with water. You can also buy a pre-diluted cleaner called 'RMC Surface Care'. It's the same product but in a ready-to-use bottle if you don't want to mix your own.
RMC Renew should be used from time-to-time to refresh, restore and protect the oil. It covers up any small surface scratches and brings the surface back to a freshly oiled state. It's best to use it when the finish has worn down from frequent use. It's simple to apply and the floors will be ready to use in only 4 to 6 hours.
Rubio Monocoat Universal Maintenance Oil is used for maintenance when you have already applied it previously to enhance the sheen. It provides the same benefits as RMC Renew for refreshing and restoring your oiled surface. Application is easy for homeowners to do and floors are dry 6 to 8 hours later.
You won't have to move out all of your furniture either each time you use RMC Renew or Universal Maintenance Oil, as the worn out pathways are the only areas needing attention. It's far easier than maintaining a traditional oil finish every couple of months and also way less hassle compared to completely re-sanding and refinishing your entire hardwood floors every 7 to 10 years if you have a lower-end surface finish.
4. Non-Yellowing:
The vegetable oils used in the finish are claimed as being non-yellowing so you don't have to worry about that ugly "old" look after a couple of years that you can get with polyurethane oil modified finishes.
While we're sure they'll stand up to UV light better than oil modified finishes, we'll have to wait a while to see if these claims are 100% true. Our initial findings are that it's doing a good job so far in this regard.
5. VOC and Stink Factor:
Rubio Monocoat oil wood floor finishes are completely VOC free and completely natural and non-toxic. There is a mild vegetable oil smell initially that is not bothersome at all. Apart from the easy maintenance, this will be the next best feature for a lot of people, especially those that are planning to stay at home while the floors are being refinished.
It's also gaining fast popularity within the green building community because it contains no VOC's. It also doesn't contain: formaldehyde, ammonia, acetone, solvents, odor-masking agents, chemical residuals, arsenic, beryllium, chromium, cadmium, nickel or lead. You only have to use warm water and soap to clean up after use.
Anything that helps the environment and makes for a more pleasant experience in the midst of the hassle of having your floors sanded and refinished sounds good to us.
6. Time to Cure:
This hardwax oil takes a bit longer to dry than the OSMO we first tested. From 24 to 36 hours for it to be dry and ready to use. It's 80% cured in 48 hours and fully cured in 5 days. As it's a 1 coat system it's a lot faster than the time of a 3 coat water-based system and is much faster than a 3 coat oil-based system. It's also faster than the 2 coat OSMO system. Nobody wants their floors out of commission for too long so it's definitely a win in our books for client convenience. The only time it will take a bit longer than the 36 hours to dry is if you want to add the second product to give it a satin sheen. This will add 6 to 8 more hours of drying time.
So did it pass the 6 point test?
We think it did extremely well.
It's a very flexible system that has a great choice of colors, it has no dangerous ingredients, doesn't stink and is durable as well as extremely easy to maintain.
Definitely a very worthy contender.
Who Would Rubio Monocoat Oil Be Good For?
Anyone that wants one of the most environmentally friendly finishes available in the world will love this system.
Anyone that wants a completely unique floor will love it too.
This would also be a great finish for a commercial environment like a restaurants, hotels or offices where speed and smell are major concerns.
In fact we have a project coming up that this is just prefect for – a real estate agent office. They work Monday to Saturday and can't afford to shut the offices down other than on Sunday. With any other finish system this would be impossible, if not just for the drying time and number of coats needed.
With Rubio Monocoat, we can come in after the office closes on Saturday evening, sand the hardwood floors through the night, apply the oil early Sunday morning and then have them dry and ready for opening Monday. When they need maintenance or touch-ups we can always do that on a Sunday so there is no disruption.
This system really is incredible for situations like these.
Who Would It Not Be Good For?
Like all finishes, there are certain situations where we would advise our clients not to use them as well. For numerous reasons we can chat about in person when we come out to look at your floors, we would not be comfortable using Monocoat Oil on older floors that are excessively chipped, splintered gapped and damaged.
We'll only apply it to floors that are in good condition, relatively gap free and that can be sanded to a smooth, flat and even surface.
As we mentioned at the start of this article, a very high standard of surface preparation is crucial to make this finish look its best. As we're perfectionists we won't apply a finish that we know we can't do justice to and that you won't be happy with.
It's also not the appropriate finish for those that love the "glossy, shiny and thick" finish look.
This finish is very flat and gives a hand-rubbed look.
If you use the Universal Maintenance Oil as a second coat you'll get a bit more sheen, but it will never be a shiny finish. This finish is for people that love the natural look and feel of timber and want to highlight it and not have it covered up by 'plastic'.
Our Rubio Monocoat Review Conclusion…
We are definitely impressed with Rubio Monocoat Oil. It has overcome many issues that other traditional finishes battle with. We love the creativity that this finish allows as well as the air quality and environmental benefits. The easy maintenance is also a huge plus.
Is it for everyone – no. But then again what finish system is? For those that see the benefits that it offers, it could be the perfect system though.
We have two more hardwax oil finishes to test out and report back on for this experiment – Pallmann Magic Oil and Bona Indoor Oil . We'll get to those during the next two months. When we've done that we'll see which one will join the ranks of being a Tadas Wood Flooring recommended finish.
If you have any questions about Rubio Monocoat we'll be more than happy to discuss it over the phone or in person. If you book an In-Home Audit with us then you'll also get to see the samples we put together. One way or the other we'll help you decide on the perfect finish system for your floors.
(Continue to Part 3 to see the results of the next review – Bona Indoor Oil)
**2023 UPDATE: Rubio Monocoat Review 11 Years On**
Wow. It's been 11 years since we originally wrote this Rubio Monocoat review blog post. Quite a few things have changed with Rubio Monocoat in that time. Some product names have been changed, other products like Precolor Easy and Universal Maintenance Oil have been added. I went back and updated the post above to reflect these changes.
During this time we have completed well over 100+ Rubio Monocoat floors. We haven't had an issue with a single one of them. We fully endorse this hardwax oil finish.
But we have seen a few complaints online about this finish lately. We've had a few in the comment section below as well.
It seems that the majority of these complaints stem from inadequate surface preparation and improper oil application. As we said in the original article above, a very high standard of surface preparation is crucial before applying Rubio Monocoat Oil Plus 2C. As is following the application instructions to the letter – especially when it comes to excess oil removal.
This process isn't as simple to do as the marketing materials selling the finish make it seem.
Without the proper professional sanding equipment, getting your floors sanded to a high standard for a single coat of finish will be a challenge. And without experience using hardwax oils, you could end up with a floor that looks unprofessional and doesn't perform to your expectations. This goes for both hiring inexperienced (with this type of finish) hardwood floor refinishing businesses and DIYers.
Please be cautious.
The successful DIYers we see are ones that spend a lot of time, often with only DIY grade hire equipment, making sure everything is right with the sanding part of the process before applying the oil.
We'll do a full update to address the issues some seem to be having with Rubio Monocoat soon.
In the meantime, here are a few of our favorite Rubio Monocoat floors we've done over the last few years for some inspiration.
Some Rubio Monocoat Projects We've Worked on…
For this super black floor in Winnetka Illinois, we used Precolor Easy Intense Black, Rubio Monocoat Charcoal and Black Universal Maintenance Oil for a triple black effect. It's one of the darkest floors we've ever done.
The Chicago hardwood floor refinishing project was finished with Rubio Monocoat Silver Grey. We have a full write up on this project here …
This Naperville hardwood floor in the picture below was Fumed and Rubio Monocoat Super White buffed on top…
The floor in Glen Ellyn, Illinois is Rubio Monocoat Oyster, one of our favorite colors…
Mystic Brown Precolor Easy and Rubio Monocoat 5% White on top was used for this cool looking floor in Winnetka, Illinois…
This one is Silver Grey Rubio Monocoat Oil over the Fumed base coat. You can see the full project we did in Logan Square, Illinois here …
This Naperville kitchen was finished with Rubio Monocoat Black (which isn't really black. Their color called Charcoal is a true black)…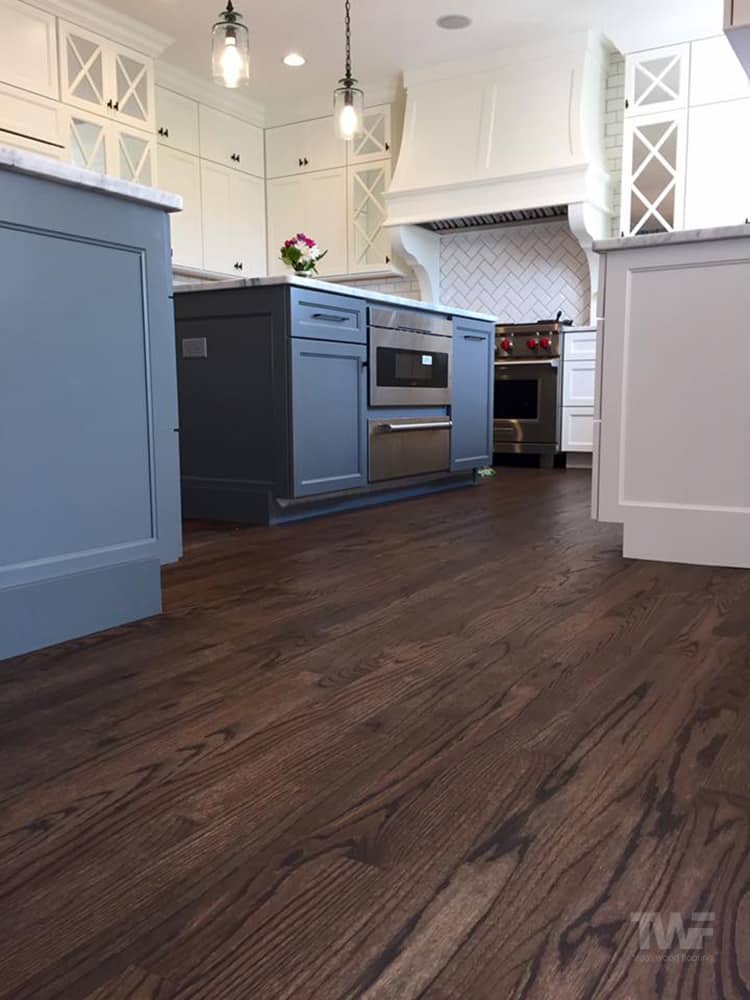 And for this project in Naperville we used Precolor Easy Urban Grey then applied Rubio Monocoat White over it…
There are plenty more pictures of Rubio Monocoat floors over on our Photos page.
If you'd like to use Rubio Monocoat for your flooring project, get in touch. We'd be more than happy to help you find the perfect color mix for your floor.
And if you're not in our Naperville/Chicago service area, feel free to ask any questions you have in the comments below…
–
Updated Jan 2023