What Color Should I Stain My Wood Floors?
One of the biggest questions we get here at Tadas Wood Flooring Inc. when it comes to staining floors is: Should I get my floors stained and if so, what color should I go with?
It's easy to see why this can be such a dilemma for some people, your floors will have a huge impact on the look of your home and if you get them wrong, you'll be stuck with them for a long, long time.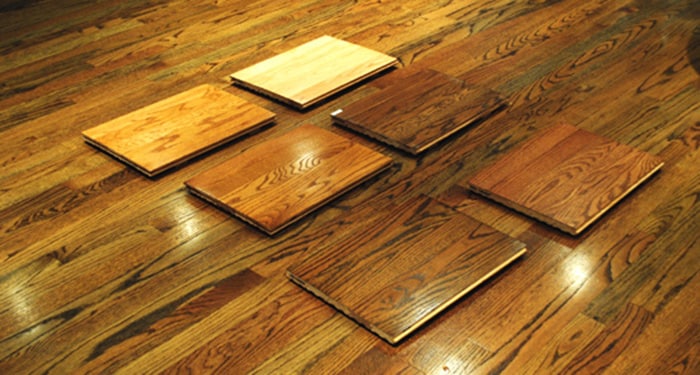 The answer isn't as hard as you might think. There are a number of factors that will affect whether you should stain your floors and what stain color best suits your home, all of which need to be taken into consideration before making a decision.
Let's go through a few steps to see what your decision should be.
To Stain or Not:
The first decision to make is whether you should even consider if you floor should be stained or if it should be kept in its natural state.
Consider the following…
What Type of Wood Do You Have?
If you are lucky enough to have an exotic, rare or special wood floor such as mahogany, cherry, rosewood, walnut, aged pine and even maple then we strongly recommend they don't be stained.
They already look great in their natural colors. Most people stain their floors in an attempt to get them to look like one of these awesome floors, if you already have this type of hardwood floor in your home then you're way ahead of the game.
On the other hand, maybe you have a more common wood like red or white oak. These floors can look great left their natural color, or they can be stained to make them look a more exotic shade like the above species.
Oak flooring takes stain very well with the correct techniques and they look great when done properly.
A lot of people don't like the "old" style of "yellowish" natural oak they associate with their grandparent's floors. If you're one of these people, then a stained floor could be perfect for you.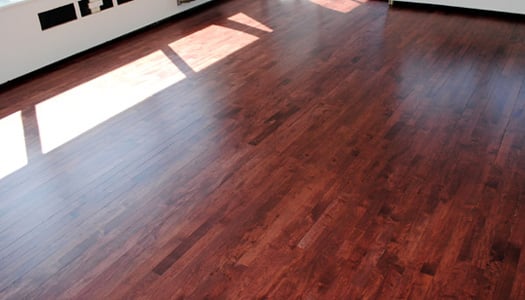 The kind of flooring you have shouldn't be the only deciding factor though. In the end it will all come down to your own tastes and preferences. We have stained many different species of wood floors for clients including the maple floors in a Chicago apartment you can see in the picture above.
Ok, I've Decided I Want to Stain My Floors… But What Color Should I Go With?
This can be one of the toughest decisions you'll have to make when it comes to refinishing your hardwood floors. Unless you have the exact image in your mind of how you want them to look, you'll need to find some inspiration.
One of the best places to see different flooring styles and colors is in that stack of home decoration and renovation magazines you have piled up in a corner somewhere. You should be able to find images of houses with all sorts of wood flooring shades within them.
What grabs your eye? Do you like the light, clean open look of a lighter colored floor, or do you fancy the deep, elegant and bold look of darker floors? Maybe your eye is drawn to reddish, brown shades in between these two palates.
The picture below shows just a small sample of the many colors that are available.
You can also take a trip down to your local big box hardware store and browse through the flooring isle to see what tickles your fancy. You should be able to pretty quickly see what you like and even more importantly what shades you don't like with the big samples they have on display.
What Style or Theme are You Going For In Your Home?
If you have a certain taste in furniture or a design style you're going for, it will greatly help you to decide on a color as well.
For example, if you want a country, farmhouse theme in your home, then you won't want to stain your floors Dark Ebony or Jacobean, you would go for something like Early American or Colonial Maple that are in the color board above.
On the other hand, if you're going for a more modern contemporary style, you won't want to put down a color like Sedona Red as it would look completely out of place. You would go with something much bolder and modern like Ebony or one of the darker brown hues.
Try to find a color that will set off the theme you're going with. You want something that will ground your room/s styling and not clash with your décor. Think about the ambiance of the room you're hoping to obtain when choosing colors.
Should I Go For a Light or Dark Stain or Something In Between?
Again, this will depend on the style you want to have in your home.
At the moment dark colors are all the rage in magazines. But this doesn't mean it has to dictate your own style. They are your floors and you have to live with them. Plus what's in now could be "out of style" soon according to the design gurus. You have to decide on something you like that will look good with your furnishings long-term.
On that note, red/brown shaded stains like Walnut and Chestnut have a very warming, homey effect in a home and are a very safe bet. Lighter shades like Cherry and Golden Oak will accent the natural grains and beauty of a floor while still giving it some depth and color. While dark shades like Ebony and Jacobean will make a grand statement in a home and show off furniture more.
Lighter floors can be better for small dark rooms as they will brighten them up, making them look bigger because they reflect light. Dark floors will absorb light and have the opposite effect.
One reason for going with a dark colored stain may be to hide blemishes or imperfections. If there are large areas of water damage or pet stains, then a dark ebony stain might be able to adequately mask these areas and other imperfections without having to do extensive repairs (assuming the wood itself is stable).
One other thing to note about dark floors is that maintenance will be somewhat more difficult. Scratches will show through easier and dust will be much more noticeable on the surface. So if you have a full house running through, scuffing things up, tracking dirt and dust in and you don't want the stress of continually cleaning up, you may want to consider a lighter color. Lighter floors are considerably easier to maintain and keep looking clean.
What If I Can't Decide Between 2 or 3 Colors?
If you've narrowed your choices down to 2 or 3 colors then you're well on your way to getting the perfect stain for your hardwood floors.
As I've gotten a bit carried away with this post, I'll make that the subject of my blog post for next month (you can read it here ). I'll go into great detail of the best way to make sure you're completely 100% happy with your decision before you commit to staining the entire floor.
In Conclusion…
As you can see, the choice you have in stain colors is almost unlimited.
Whatever your taste is, dark, lighter floors, red hues or brown and all the shades in between, you will have no trouble finding a color that fits in perfect with your home. And if you can't find the perfect color out of a tin, we'd be happy to mix some different stains together for a custom blend that matches your taste and style.
If you need some extra help in choosing a stain color all you have to do is ask us and we'll be happy to lend our professional help.