Water Popping Hardwood Floors
One of the procedures we go through with every single hardwood floor that we stain is called "water popping". It's also called "grain popping" or "raising the grain". Basically, water popping is a process used to open up the grain of wood flooring.
Why is it needed?
Well, once we've completed several sanding passes with various paper grits – from coarse to fine – the hardwood floor naturally becomes extremely smooth. The hardwood floors grain has become closed and tight, or in other words, it isn't always open or porous enough for it to accept stain properly and evenly.
Most of the stain will sit on top of the closed, tight wood grain and not penetrate deep enough. Then when it's wiped off, the majority of the stain will be removed as it hasn't soaked into the wood effectively.
By applying water to the wood before the staining procedure, it re-opens the grain and makes the hardwood floor porous again, allowing for much better results with the staining procedure.
The water popping process has a number of benefits:
It allows the stain to be applied more evenly across the floor.
It darkens the stain color by allowing the grain to absorb more of the pigment.
It helps remove any small remaining sanding marks that may have been missed.
By raising the wood fibers, the finish will penetrate deeper and result in a stronger finish.
We'll go through each of these benefits below one-by-one. But first you're probably wondering…
How Is Water Popping Done?
You can do this procedure in a number of ways. Some like to use a water jug and a T-bar to pour and then spread the water around the floor. Many use a bucket of water and clean rags to wipe water onto the floor. Others use sprayers to mist the floor with water. Some use a buffer with a soaked carpet pad.
We personally use the sprayer method.
Doing it this way allows us to wet the floor very evenly and consistently, while saving time vs the hands and knees method.
We overlap the wet areas as we progress around the floor to make sure no spots are missed, as you can see in the photo below…
For beginners or do-it-yourselfers, we suggest the slower, but safer method of a bucket, a rag and getting down on your hands and knees.
This way will allow you to get a much closer view of what you're doing. If any tiny spot is missed in this procedure then the stain job will be ruined and you would have to start all over again. Not something worth risking. The extra time needed to do it right the first time is worth the extra effort.
You want to wipe wet (but not soaked) rags over the floor, overlapping the areas as you progress to make sure no spots are missed.
It's super important that this is done very evenly.
You can't have a huge puddle of water on one section and then another section is hardly damp. If its water popped unevenly, then the stain will soak in unevenly as well and the floors will look blotchy. Definitely not the results you want.
If this happens, the only way to rectify it is a complete re-sand. All that time and money you just spent to get to this stage will have been wasted.
It's also important to note that you need to use very clean water with this procedure. If the water has any contaminants in it, it could react with the stain or finish and give you a huge headache down the road.
Once the entire floor has been water popped, we wait for the grain to raise and the floor to dry.
The time for this can vary because of weather and humidity etc. but usually after 1-4 hours it's ready.
When the floor has dried, you'll see that it has become quite rough looking and it's no longer smooth to the touch. This means the floors grain is now open and ready to accept stain.
Once we've double checked the newly water popped floor to make sure nothing was missed and for even coverage… it's then ready to begin staining.
Let's look at those 4 benefits we mentioned at the start of the article a little closer.
Benefit 1 – It Allows the Stain to be Applied More Evenly
As was mentioned previously, there are numerous sanding sequences used on a hardwood floor refinishing project.
As the belt sander, edger, buffer and TRIO are all used across the floor with different paper grits. During each sanding stage, the floors grain closes and tightens more. This doesn't occur evenly though because of the nature and technique of the sanding machines used. The area in the center of the floor may have more open grain than the perimeters because two very different machines are used.
When the floor is water popped properly, all of the hardwood floors grain is evened out and becomes equal. Now when the stain is applied, there will be no worries about any areas accepting the stain differently and ending up with a blotchy floor.
Benefit 2 – It Makes the Stain Color Darker and Richer
Many people are still choosing darker stain colors for their wood floors. It is a very dramatic and classy look when done correctly.
The problem is that a lot of homeowners have visions of nice, deep dark floors but when they see lighter results than what they were expecting, they're not happy.
The secret to dark, evenly stained floors is water popping.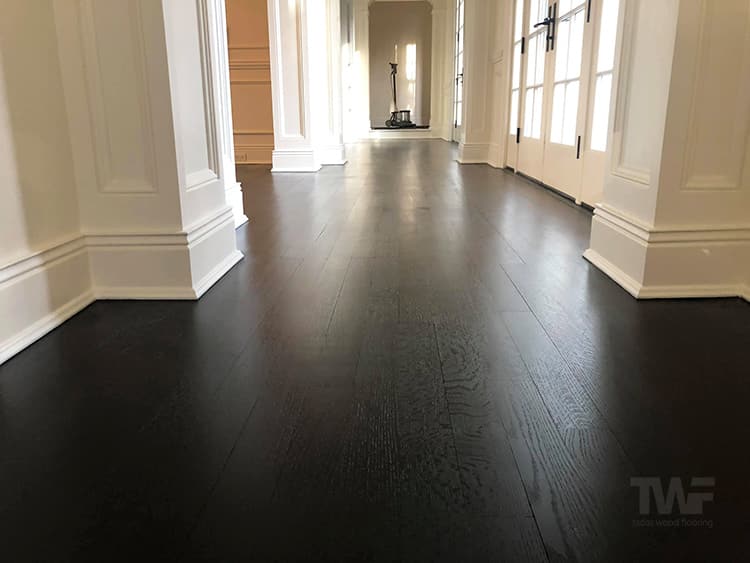 As we've talked about, when the floor is smooth, the grain is closed and the stain doesn't have enough wood fibers to soak into. This is why floors come out lighter than what you see in your stain sample – most of the stain is wiped off leaving very little that has penetrated into the wood.
When the floor is water popped, the grain is fully opened and now you have the perfect surface for the stain to soak into the wood and provide that deep, dark rich color that you were after.
ALWAYS make sure you ask for a water popped sample before committing to a color though. The shade you have on your stain sample may be very different to what you end up with.
Benefit 3 – It Helps Remove Any Small Remaining Sanding Marks
This is a little bonus benefit you get from water popping.
Of course the floor should be sanded to an extremely high quality before any staining should be started, but no-one is perfect and we can all miss some of those tiny sanding marks – especially from the very aggressive edger.
In a non-water popped floor, the stain will leave a darker shade in the missed sanding marks, leaving then very noticeable.
Below is a very exaggerated example of a floor we were asked to come out and check. No amount of water popping would remove these sanding marks, but it shows the effect clearly…
When the grain is raised from water popping though, any tiny cross grain marks (not big ones like above) are minimized and blended into the woods fibers. We think of it as that tiny extra bit of insurance.
Benefit 4 – Finish Will Penetrate Deeper and Result In a Stronger Finish.
It makes sense that, seeing the wood fibers are raised by the water popping process, there is more hardwood floor "surface" for the finish to stick to and soak into.
This is in fact what happens. The first coat of finish goes on very thirsty as it soaks into the grain and flows out across the surface. Because the popped grain is very fibrous, the first coat has much more surface to grab onto and penetrate into. This results in a much stronger coating compared to just coating over a smooth, closed grain hardwood floor.
This isn't a huge difference, but again one of those extra little bonuses you get from using this procedure.
Caution Needed When Water Popping Hardwood Floors
After a floor is water-popped, it is extremely delicate.
We take great caution when moving around on an open grained floor. Any little scuff mark made from a misplaced shoe movement will result in a lighter area on the floor and thus a complete re-sand.
If you attempt this procedure yourself, please be super, super careful between the stages of a dried water popped floor and staining. We suggest socks only.
If you are going to try this on your own floors, also be aware of how much water you apply to the floor. It is vital that you coat the floor evenly and not wet the floor too much which will result in blotchy areas. Also allow sufficient time for it to dry properly before applying stain.
The outcome of a water popped floor will vary based on certain factors like the type of wood, the amount of water used, the length of drying time and the color and brand of stain applied.
We always test first before committing to a whole floor and we highly suggest you do the same if attempting this on your own floors.
Our professional opinion is that it's better to leave water popping and staining of hardwood floors up to the experts.
We have spent years perfecting our techniques. And both water popping and staining, while not extremely difficult, have many failure points that could easily and very quickly ruin all the time, effort and money you've put into your hardwood floors.
If you have any question about this procedure, leave a comment below and I'll be happy to help.
–
Updated Jan 2023